Gairidhara is one of those little neighborhoods where you can find just about anything, from skin lightening cream to motorcycle seat reupholstering shops. This suits me well — because whenever I return to Nepal, I prepare myself to take advantage of a quality that has not changed a bit since my Buddha-shopping days: the Nepalese ability to fix anything. In the late 1980's, I delighted in snapping photos — admiring photos — of umbrella repair stands and disposable lighter refilling stations. For a few years I sheepishly brought my old lighters back to Nepal to be reconditioned, though I never got as far as umbrellas.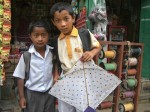 Since then, I've abandoned all pretense of shame and generally fill a suitcase with items that would have to thrown out, or replaced, in America. Among the personal possessions rehabilitated on this journey: a $65 ThermaRest pad, leaking at the seams (repaired at a bicycle tire mender for 15 rupees, about 20 cents); my Timberland expedition hiking shoes, which, though incredibly comfortable, are separating at the soles (20 rupees), my carry-on computer case, in need of a new leather carrying handle (60 rupees), and my $125 Sennheiser collapsible noise-canceling headphones, with amazing electronics but wires so cheap they're worn down to a few copper threads. The minimum repair charge for these babies on the Sennheiser site is $55, plus postage. I paid my friendly Gairidhara electrician (who fixes everything from toasters to laser printers) 50 rupees, no bargaining involved.
All of which brings me back to my long-held conviction that millions of dollars could be saved if the United States government got a clue, and started a variation of what the British did with the Gurkhas in the 19th century. The most ingenious and efficient Nepali street repairmen should be found, and recruited — not as soldiers, but as astronauts. Launched into orbit, they could repair absolutely anything — from faulty space station toilets to the Hubble Space Telescope — using needle nose pliers and few paper clips, for a cost of about six bucks a pop.