Nearly half my lifetime ago — in October, 1983 — my friend Bill Geary and I took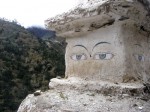 a taxi to the Kathmandu's old Tribhuvan Airport and boarded a sturdy Twin Otter for Lukla, the gateway to the world's highest mountain range. We trekked for nearly four weeks, exploring the three main valleys of what would soon become Nepal's Sagarmatha National Park. Our adventure climaxed atop Kala Patthar: a "black hill" which, cresting at 18,200′, affords a panoramic view of the Khumbu Glacier, the saw-tooth face of the Lhotse/Nuptse wall, and the commanding anvil of Everest, towering yet another 11,000′ above our struggling lungs.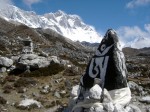 I didn't know if I could do it again. I'm in my 50's now — fit enough for sea level, but cashing in on my genetic inheritance: high blood pressure, high cholesterol, and a hardwired risk of heart failure. This year, in fact, I outlived my father, who passed away in September 1984 — less than a year after my first Everest trek, and mere days after his 54th birthday.
There are no guarantees in the mountains. I would not have been the first "healthy" trekker to collapse in the thin, cold air, struggling up flagstone trails that climb as much as 2,500′ a day, into an atmosphere that holds only 50% of the oxygen at sea level. And if that had happened — had I died on the trek, surrounded by impassive yaks and single-minded lichen — it would have been all right. By the time the Dakini and I began the long, slow climb up Kala Patthar, we had seen visions of such breathtaking beauty that it might seem almost selfish to wish for more.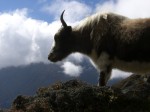 You know the ending of this story. I didn't die. We stood atop Kala Patthar just after noon, the sky high angstrom blue, the sun a bleached yellow star of halogen brightness. My ears beat in the wind. Crows hovered alongside our perch, hoping for power bar crumbs. The shifting Earth, with its myriad expressions of DNA, lay all around.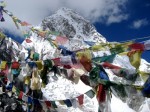 We tied a string of multi-colored prayer-flags at the summit. I dedicated their blessings to the memory of my father, and his good heart.