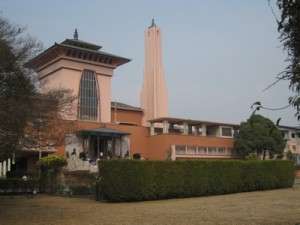 For 30 years I had viewed Narayanhiti–Nepal's Royal Palace– only through its high silver gates,   or past the fruit bats hanging from the tall trees that shelter the grounds from view. But in early 2009 (shortly after Nepal became a Republic), the long-hidden residence was turned into a museum. Checking my   bag and passing through security I felt like a Chinese commoner, entering the Forbidden City after the Qing Dynasty fell.
It was a thrill to approach the sequestered palace, and climb the marble steps flanked by statues of horses and mythical beasts. But though the building is grand from the outside, the inside is dark and cold–filled with shabby décor that looks as though it hasn't been changed for 50 years. With its small windows, narrow corridors and stuffed tigers (not to mention crocodile skins and rhinoceros heads), the place has a strange juju. One cannot use the word "comfy" to describe a single room.
There are the usual salons with useless gifts from visiting dignitaries: bronze medallions, filigree peacocks, a crystal paperweight from New York City Mayor Edward Koch. The walls are lined with photographs of visiting heads of state, even the humblest of them more powerful than their host. But the grounds and garden are quiet and pretty: the compound's saving grace.
Photography is prohibited–but I did sneak a picture in the Gorkha Room, where I found myself enchanted by the Ceremonial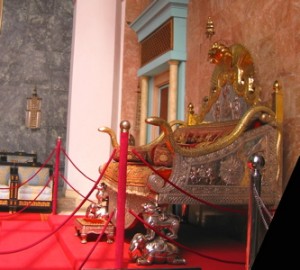 Throne. Every King needs one of these, and this one is a beauty. More than half a ton of silver and a 30 tolas of gold (nearly a pound) were used to build the sofa-sized, velvet-cushioned seat of power. A canopy of nine gold nagas shaded the King's head, and thick gold serpents served as his armrests.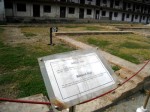 On June 1st, 2001, the enraged and besotted Crown Prince Dipendra allegedly went insane, and murdered his entire family– King Birendra, Queen Aiswarya, his siblings, and several other relatives–in the billiard room. The venue for the infamous Royal Massacre was actually a separate building, behind the palace itself. That structure has been completely demolished. Only the foundation remains, as if it were a freshly excavated ruin. Small signs indicate the sites where the shootings occurred. They are weird abstractions, and a sobering reminder of how the incoming powers immediately destroyed every shred of evidence that might shed light on the real motives for (and perpetrators of) the killings.
It's a poignant experience to stand at the threshold of the late King Birendra's office–a hideaway as modest as the Throne Room is gaudy. There's a large desk, an imported bookshelf stereo and shelves filled with an odd assortment of books: Freedom in Exile, by the Dalai Lama; 1001 Wonderful Things, by Hutchinson; Hindu Castes and Sects. There is a picture of Tibet's Mount Kailash on the wall. My friend Chrissie and I joked (in poor taste, I admit) about finding a copy of Shopping for Buddhas on Birendra's desk.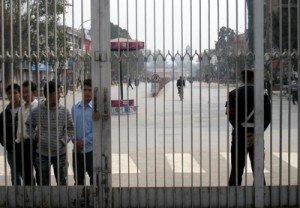 "Birendra's last words to his son," I quipped. " 'Are these things Greenwald wrote about you true??' "
I left the former palace feeling underwhelmed, and a bit sad. There is little sense of grandeur at Narayanhiti, and few signs of greatness at any level. One gets the impression that the late monarch, though not a sad man or an ignorant one, lacked the slightest shred of imagination. I had the sense, as I did so often during the 1980s and 1990s, that he was gamely filling a seat–hoping to be an adequate king between more majestic ones.
*   *   *