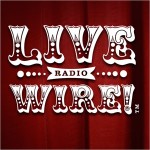 Someday, The Prairie Home Companion will die. When it does, I know what must rise in its place. Because I have heard the future of radio variety shows, and its name is Live Wire. The brainchild of co-creators/producers Robyn Tenenbaum and Kate Sokoloff, the Portland-based revue is recorded before a theater audience as live as an electric eel. Last night I was lucky enough to be one of the guests, joining the post-modern jazz ensemble Blue Cranes, renowned orangutan expert Biruté Gladikas, and the astonishing Scott Poole—Live Wire's poet-in-residence, whose spontaneous "What I Learned Tonight" summarizes each show with a burst of mad genius worthy of Valmiki.
Two hour-long shows were recorded in tandem last night. I was on the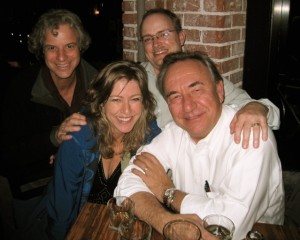 first (it will air Saturday 11/27). The second had somewhat more kick-ass energy, fueled by Portland's beloved Weinland and ignited by stand-up political satirist Will Durst. I'd never seen Durst perform, but knew he'd be good. He brought the house down. His closing line about Sarah Palin was so fucking brilliant that I won't spoil it for you here. See him. When the show was over, the cast and crew gathered to drink  whiskey at a nearby bar. Here's what sound effects wizard Pat Janowski, Scott Poole, Will Durst (and me, left) looked like afterwards.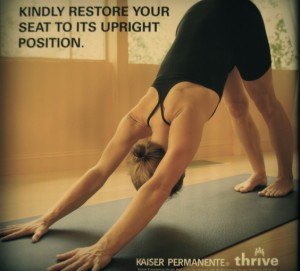 So I take my leave of the Pacific Northwest (bidding farewell, also, to my favorite airport advertisement.) But I'm holding onto a dream: to perform Strange Travel Suggestions in Portland. For one thing, Portland is the perfect place for the show, with an audience that loves theater and loves to travel. For another, I'd get to live in Portland for a month, and develop a relationship with the local IPA. Maybe I met some people who can make that happen. I sort of think I did—and symbolizing a nod of agreement from the nagas, our Horizon jet is struck by lightning as we descend into Oakland airport.